Quad Bike Rental Abu Dhabi – ATV Rental Abu Dhabi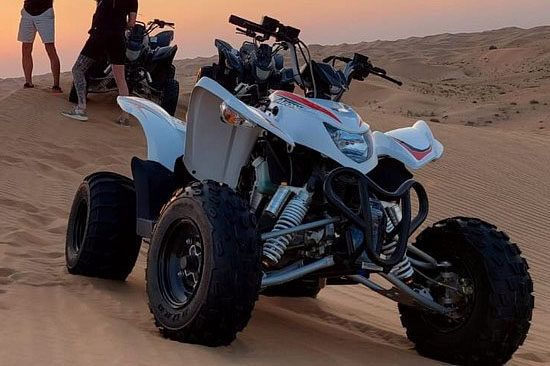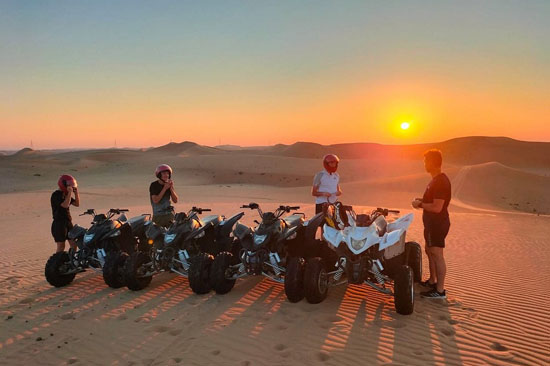 Best Quad Bike Rental Experiences in Abu Dhabi
In the heart of the UAE's capital, lies an adrenaline-seeker's dream: an opportunity to explore the vast, golden expanse of the Arabian Desert with all the power and agility of an all-terrain vehicle. Abu Dhabi offers a thrilling adventure that transcends traditional tourism. As you traverse the rolling dunes, you'll discover a landscape of stunning natural beauty and tranquility.
Off-road 4x4 Quad Bike Rental Abu Dhabi
These robust four-wheeled machines grant you the freedom to chart your course through the desert's mesmerizing landscape, climbing up and descending down the colossal dunes as you go. With the warm sun above and the undulating sand underfoot, the experience is nothing short of exhilarating.
This unique adventure is not just about the thrill, but also about connecting with the rich Emirati culture and heritage. Many tours include visits to traditional Bedouin camps, where you can savor authentic cuisine and even witness falconry demonstrations. It's a chance to step back in time and gain insights into the desert's deep-rooted history.
Abu Dhabi Desert Safari With Quad bike
The allure of the desert at sunrise or sunset is particularly enchanting. The changing colors of the sand and the tranquil silence of the nature create a sense of serenity and wonder that is simply unforgettable.
Whether you're a seasoned adventurer or a first-time explorer, the quad bike experience in Abu Dhabi offers an unparalleled way to immerse yourself in the natural beauty and cultural richness of this remarkable region. So, leave the city behind, embrace the spirit of adventure, and embark on a journey that will leave you with lasting memories of the stunning Abu Dhabi desert.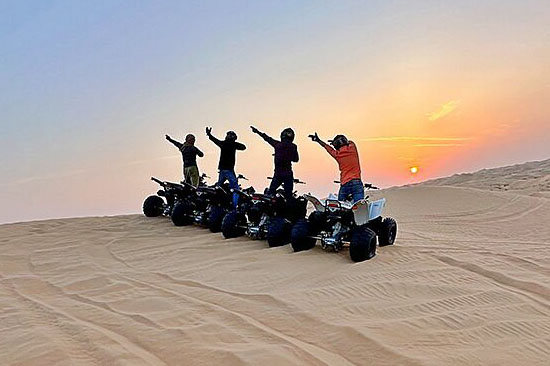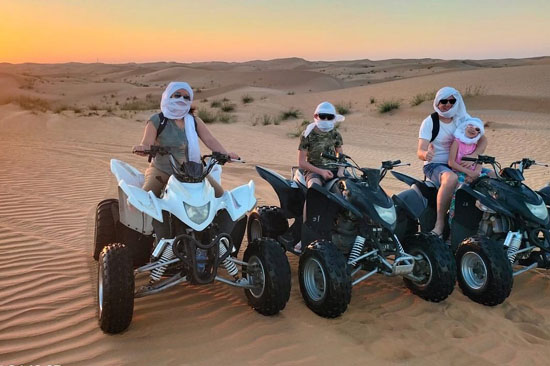 Quad Bike Rental Options
ATV Rental Abu Dhabi
In the heart of the United Arab Emirates, a thrilling opportunity awaits adventure seekers eager to explore the breathtaking landscapes that define this region. With a robust fleet of off-road vehicles available for rent, you can immerse yourself in the beauty and challenges of the desert terrain.
These rugged machines are designed to conquer the desert's ever-shifting sands, allowing you to navigate through towering dunes and wide-open expanses with ease. The experience is not only exhilarating but also a chance to connect with the rich cultural heritage of the region.
Guided ATV Safari Tour
We only provide guided tours, ensuring that you can explore the desert safely while discovering hidden gems and experiencing authentic Emirati hospitality. These excursions often include stops at traditional Bedouin camps, where you can savor local cuisine and engage in activities that offer insights into the region's history and traditions.
Whether you're an experienced off-road enthusiast or a novice looking to embark on a memorable adventure, renting one of these rugged vehicles provides a unique opportunity to embrace the spirit of exploration and conquer the formidable desert landscape. So, gear up, leave the city behind, and prepare for an unforgettable journey through the stunning sandy terrain of this remarkable region.
Quad Bike Rental For Kids and Teenagers
We also rent 90 cc small quads especially for small kids / children who also like to have a quality time in the sand dunes with their friends or family. This activate is ideal when you want to have birthday parties with groups.
Yamaha Raptor 700cc manual Quad Bike Rental for Professional Riders
The Yamaha Raptor 700cc is a high-performance 4x4 machine designed specifically for professional riders who crave power, precision, and unmatched off-road capabilities. With its impressive engineering and advanced features, this machine has become a formidable force in the world of all-terrain vehicles (ATVs), setting a benchmark for excellence in its class.
Safety is a top priority, even for professional riders. The Yamaha Raptor 700 includes advanced safety features such as a durable chassis, responsive brakes, and high-traction tires, ensuring that riders can push the limits of their machine while still maintaining control and safety.
In the hands of a professional rider, the Yamaha Raptor 700 is more than just a quad bike; it's a precision tool that allows them to push the boundaries of their off-road adventures. With its powerful engine, exceptional handling, and rugged design, the Raptor 700 stands as a testament to Yamaha's commitment to delivering top-tier ATV performance to those who demand the best. For professionals seeking the ultimate off-road experience, the Yamaha Raptor 700 is a worthy companion on the path to exhilaration and triumph.
Adventure Safari Tour Available Days and Time
Daily
From 9.00 am to 5.00 pm
Remember
Subject to the availability, the tour confirmation will be given
Not recommended for pregnant women or participants with back problems, complaints or other serious medical conditions
Land cruiser will be on sharing basis with 6 peoples accommodated in a car – It's not a private tour, if private tour needed please contact our reservation
Comfortable, sporty and smart casual dress code is advised, including closed shoes and trousers. Warm clothing is recommended during the winter period (October to March)
Children below 15 years not recommended riding the quads in Abu Dhabi
Pick up  and drop off service
Convenience is paramount when it comes to transportation, and pick-up and drop-off services from the city center offer a seamless solution. Whether you're traveling for business or leisure, having a reliable service that can whisk you to your destination from the urban hub can greatly enhance your experience.
Airport pick-up services eliminate the stress of navigating a new city, especially after a long flight. A professional driver awaits your arrival, ready to assist with your luggage and provide a comfortable ride to your destination. This convenience is particularly valuable when you're traveling to an unfamiliar place.
Likewise, city pick-up services are equally essential for those looking to explore a destination without the hassle of parking or public transportation. Whether you're embarking on a tour, heading to a meeting, or simply enjoying a night out, having a convenient pick-up and drop-off service ensures that your journey is smooth and worry-free.