Al Ain Desert Safari Adventure Tour From Abu Dhabi
Al Ain Desert Safari excursion from Abu Dhabi | Best Morning, evening Al Ain Safari rates/Price/cost | Al Ain Desert Camp | Al Ain Desert tour Adventure Special Offers
Al Ain Desert Safari Tours from Abu Dhabi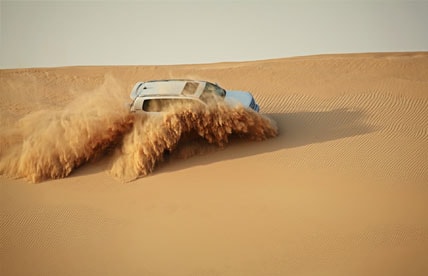 Leave the city behind and experience nature of beautiful the Al Ain deserts through a off-road sand dune trip, also known as a desert-safari & enjoy a bumpy ride over the golden sand dunes. With luxury four-wheel drive off-road vehicles you travel into the desert where an experienced driver drives the 4x4 at high speeds over the desert dunes and where the cars are often drifted sideways past the dune top called Dune Bashing. You will certainly not soon forget this sensational experience! In between you will stop several times to give you the opportunity to shoot beautiful pictures of the desert-landscape and to recover from the wild ride over the dunes.
After the drive through the sand dunes, all cars gather at the desert camp where, if you have opted for the evening safari, you will have the opportunity to watch the beautiful sunset. Afterwards there will be a dinner where you can enjoy various performances of belly dancers (note, there will be no belly dance performances on Fridays & Holly month of Ramadan and no alcohol will be served on this days). In addition, you get the chance to smoke hookah (shisha) in the desert camp, have fun with  sandboarding or take a ride on a camel with your family /  loved ones.
Please note, because it can be a bumpy ride during this off-road desert safari and sliding through sand dunes, so we advise this safari tour is not suitable for pregnant women, heart patients and people with back problems. And this adventure desert safari trip is also not recommended for very small children.
Al Ain Morning safari in the deserts
Go on safari in the deserts of Al Ain with this morning safari where you get to see the desert in the early morning. In the morning you will be picked up from you hotel, airport or any place in Abu Dhabi and the driver will head to the desert of Al Ain to make a ride through the sand dunes. You also get the opportunity have play and slide with sandboard (sandboarding) in the sand dunes. And have fun playing with your family and children in the golden desert-sand.
Al Ain Evening desert safari in a 4 × 4 jeep
Discover and experience an off Road adventure tours to the Al Ain Desert when it is at its best and watch the sunset in the desert during this 4 × 4 Al Ain desert safari from Abu Dhabi. Around two o'clock you will be picked up at your hotel or residence in Abu Dhabi and you will drive to the Al Ain desert from Abu Dhabi for a ride over the desert-dunes. Along the way there is ample opportunity to stop in the middle-desert for the necessary selfies and photos. And you will get a chance to do sand boarding, camel ride and you can enjoy the belly dance show. After the drive through the deserts, At the Al Ain Desert-camp, experience a traditional welcome along with an Arabic cup of tea or coffee with juicy dates and then enjoy an Arabic barbecue in the in the middle of the Al-Ain-desert, with activities like Henna Painting, Arabic Dress costumes, Belly dance, Tanoura dancing performance, Shisha and many more during this unforgettable Al Ain desert-safari tour.
Overnight Al Ain Desert Safari and Desert Camping Tour
Our overnight Al-Ain desert-safari tour from Abu Dhabi is ideal for family, children, friends or your colleagues  looking forward to experiencing the best delights of the golden deserts of Al Ain and its fascinating lifestyle.
This Safari tour starts in the evening when the desert starts to cool down and perfect conditions to have fun and explore the desert on a 4x4 off-road SUV and slide through the breathtaking sand dunes. Then you will get an opportunity to go for a camel ride and you can visit the camel farm.
When the sun's ray disappeared into the darkness we'll move to the Al Ain Desert Campsite so you can enjoy the activities which we arrange for you and spend a unforgettable evening in the middle of the Al-Ain-desert with the traditional Arabic cuisine and the BBQ dinner under the clear night sky with your friends or family.
Plan your Al Ain desert-safari tour from Abu Dhabi with us and enjoy the best Al Ain evening, morning or overnight desert-safari rates and incredible moments.
What to do in Al Ain
Al Ain ATV Drive / Quad Ride from Abu Dhabi
ATV, Quad Biking & off-road dune buggy ride / drive events also  available for visitors with different options as in half day or with morning, evening or overnight tour packages with extra payment during the course of the trip or also you could book desert-adventure package entirely. This thrill and breathtaking of this adventure ride with our powerful quad-bikes and ATVs in the desert sand dunes cannot be explained by words. Refreshments will be provided after the tiring quad-ride. This is an unique opportunity and our clients no need to worried about their safety, Quad-Bike ride / Buggy drive will be offered to you, under careful supervision and instruction from our experienced staff.
Reserve desert-safari online
Do you want to book a desert-safari online before you go on holiday to Al-Ain UAE? Al-Ain-desert safaris can be booked directly online so that you don't have to arrange anything on site with the chance that Al-Ain-desert-safaris will be fully booked on the days you want to explore the Al-Ain deserts.
For bookings, Costs, Price, Best Deals or Special Offers of Al-Ain-desert-safari
Please send us an email or simply send us a whatsapp message with all your information (Which date, how many people ect. ect) so we can send you the details. Please us our whatsapp number for a quick reply.
Other interesting activities from Abu-Dhabi: