Abu Dhabi Desert Safari Tours | Overnight Desert Safari | Morning Desert Safari | campfire Abu Dhabi |

Luxuary

Sand Dune Trip | Abu-Dhabi half day tour price
Morning, Evening or Overnight Abu Dhabi Desert Safari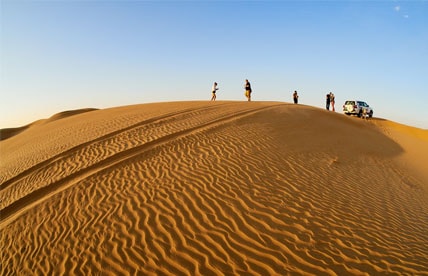 Morning Desert Safari Abu Dhabi tour is one of the thrilling rides in the beautiful sand dunes in Abu Dhabi deserts and in the evening with buffet dinner and fun filled entertainments is the Evening Desert Safari. Abu Dhabi dunes and long sand valleys are one of the largest in the world. It takes pleasure of exciting adventure and activities that bring out the fun of the desert, and thrill you feel simply awesome for those who involve Abu Dhabi Desert Safari. Abu Dhabi Desert Safari will give a memorable and unforgettable moment for everyone who is visiting UAE.
Capital of UAE Abu Dhabi never fails to surprise everyone, with the perfect mix of Arabian culture and tradition with modernity and fun. Even for a day visiting this city in UAE is a dream comes true to many people because it has lots of choices and options in regards to tours, food, events, activities, nightlife and things do in and around the city limits. Time is a constraint to many people, this is the reason why we Abu-Dhabi-Safari-Tours provide different packages of safaris around the desert to suit everyone's need for a best price.
In a beautiful desert city such as Abu Dhabi demands that you don't miss out on one of the most popular activities among the tourists and the locals at the same time. In this Abu Dhabi Desert-Safari you will get a chance to visit the unforgettable locations of the Abu Dhabi Deserts. Whether you want to bash the dunes in the early morning, explore the vast desert in daylight or star gaze into the night with the evening desert-safari or a campfire / camping in the in overnight desert-safari, your experience of Abu Dhabi Desert Safari will be an unforgettable one.
Interesting activities like Dune bashing, Camel riding, sand boarding / Sand skiing, Quad bike ride and buggy ride makes Abu-Dhabi Desert-Safari really trilling and enjoyable not only for adults also for children. If you appreciate henna body art, the professional Arab designers can get you the design of your liking on your hand and feet with a range of henna designs to choose from. Other activities at the campsite include sunset photography, campfire, shisha, delicious food, belly dancing, and exhilarating sand boarding under starlight.
Desert-Activities
Camel Trekking

Photography

Quad Bike Ride

Buggy ride

Henna Painting

Sand Boarding

Belly Dance

Arabic Coffee (Gahwa)

Shisha (hooka)

Delicious Dinner including Barbeque, Continental and Vegetarian food
Includes
Round trip transfer, 4×4, air-conditioned Land Cruiser
Abu-Dhabi Port – Ships Arrivals : Our Safari-tour guide will be waiting at the guest's entrance of the terminal, holding a name board of yours for the pickup

Abu-Dhabi international Airport : Guests are requested to come to Airport Premier inn hotel lobby which is 10 minutes walk away

Any City Hotels in Abu-Dhabi : Our tour-guide will pick you up from the hotel lobby

Any Malls: Our company guide will be picking you up from the Mall's main entrance

An experience desert-Safari-Tour Guide
Safari-options:
For more information and bookings contact us via our contact from or you can send us a whatsapp  message, you also can direct call us for a quick answer.