Liwa Desert Safari Experience
Liwa Oasis full day Desert Safari Adventure Tour from Abu Dhabi | Golden Desert Liwa | Liwa Day Safari Trip Deals from Abu Dhabi | Liwa Morning Sand Dune Drive
Liwa Oasis Desert camping Tour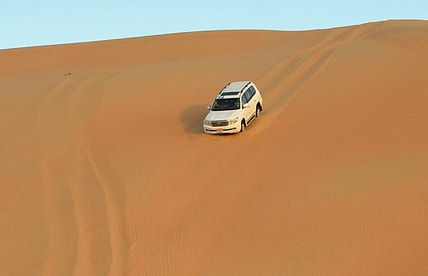 Liwa full day safari adventure is an unbelievable unique experience in the desert. Our company driver (guide) will be picking you up on a 4x4 off-road land cruiser from your hotel, resident or direct from the airport in the morning to drive you towards Liwa-desert to spend a day enjoying the pure golden sand dunes as far as the eye can see. You will enjoy the dune drive experiencing the slides and bumps like a rollercoaster for sometimes, before you get down from the vehicle in world famous Liwa Abu Dhabi Arabia Desert. This is a tour is one of the best safari tours in UAE with fascinating experiences!
Enjoy a dune bashing session where you feel your adrenaline rise with every bump and In the middle of the desert you will be served coffee to refuel yourself while you witness the beauty of Liwa. Take advantage of this unforgettable moment to click some photos in this amazing landscape. Taste a delicious lunch with the relaxing and peaceful desert surroundings.
Then in the evening with the dusk, enjoying the breathtaking sunset views and you will be returning back to your hotel at Abu Dhabi City, imprinting a long term memory in Liwa-desert Abu Dhabi.
Picking up and Dropping Off

Abu-Dhabi Port – Ships Arrivals: Our Safari tour guide will be waiting at the guest's entrance of the terminal, holding a name board of yours for the pickup

Abu-Dhabi international Airport: All our guests are requested to come to Airport Premier inn hotel lobby which is 10 minutes walk away

Any City Hotels in Abu-Dhabi: Our Safari Guide will be picking you up from the hotel lobby

Any Malls: You will pick you up from the Mall's main entrance

A comfortable your night stay

Minimum 4 people required
Lunch box lunch

Visit to the Liwa-Oasis

Desert dune drive

Bottled water

Arabic coffee
For more information and bookings contact us via our contact from or you can send us a whatsapp message, you also can direct call us for a quick answer.
Other interesting desert-safari events for famalies and friends: